I'm having fun with 2 more xbox live arcade titles… I seem to be spending more time on the xbox after I cancelled my 7 year subscription 🙂
The Dishwasher: Vampire Smile
This mono (except for blood splurts and falling coins) shaded 2D side scrolling hack and slash is a great challenge; with a variety of weapons and moves plus end of level monstrous bad guys to tick ever box in the genre.
It's a dark compelling story told 2 ways (although I've only concentrated on the Dishwasher for now), there're character choices, and arcade options, with weapons to level up.
Oh and I nearly forgot the music interludes, where you knock out catchy guitar rifts to earn tokens.
These tokens then offer advantage and benefits in combat, where you can equip up to 5.
You also have a variety of weapons to equip, and have 2 sets to quickly swap between that consists of 2 melee plus a machine gun.
And if it turns out to be too much of a challenge, there's the Pretty Princess girly mode, which not only makes it heaps easier, but replaces the blood and gore with rainbows and hearts 🙂
The comic book style is pulled off well, with a fighting mechanism which flows elegantly… off to play more, it's a welcome break from GTA V 🙂
Think I'm inspired to play Ska Studios Charlie's Murder next
[Rating: 3.5]
---

Naughty Bear: Panic in Paradise
This game was, excuse the pun, slaughtered by the ign review
2.3 Painful
Naughty Bear: Panic in Paradise is a disastrous stealth game without a good sense of humor.
However I think they were being a bit too unfair, and holding it to high standards, it is after all an arcade game.
The mechanisms are simple, but outrageously fun!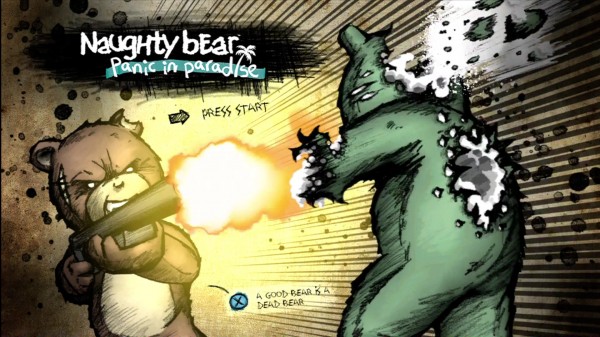 In each level you have to snuff out a target teddy bear, with bonuses for achieving it in the prescribed manner.
There's a huge variety of costumes and weapons, ranging from the brutal to the absurd.
More bonuses are given for shocking, trapping, and maiming bears. My favourite is where you disguise yourself as another teddy by ripping off its face :s
I've never been a fan of horror movies, and I'm a pacifist, veggie, and complete softy… but I find this game fun.
The Play School like voice over between levels builds up the satire, of this cuddly bear who has been wronged by the nice stuffed toys, and justifies him taking his revenge in a gruesome manner.
Maybe not the greatest of stealth games, but it is a good arcade game and has inspired me to find a copy of the original in the series.
[Rating: 2.5]