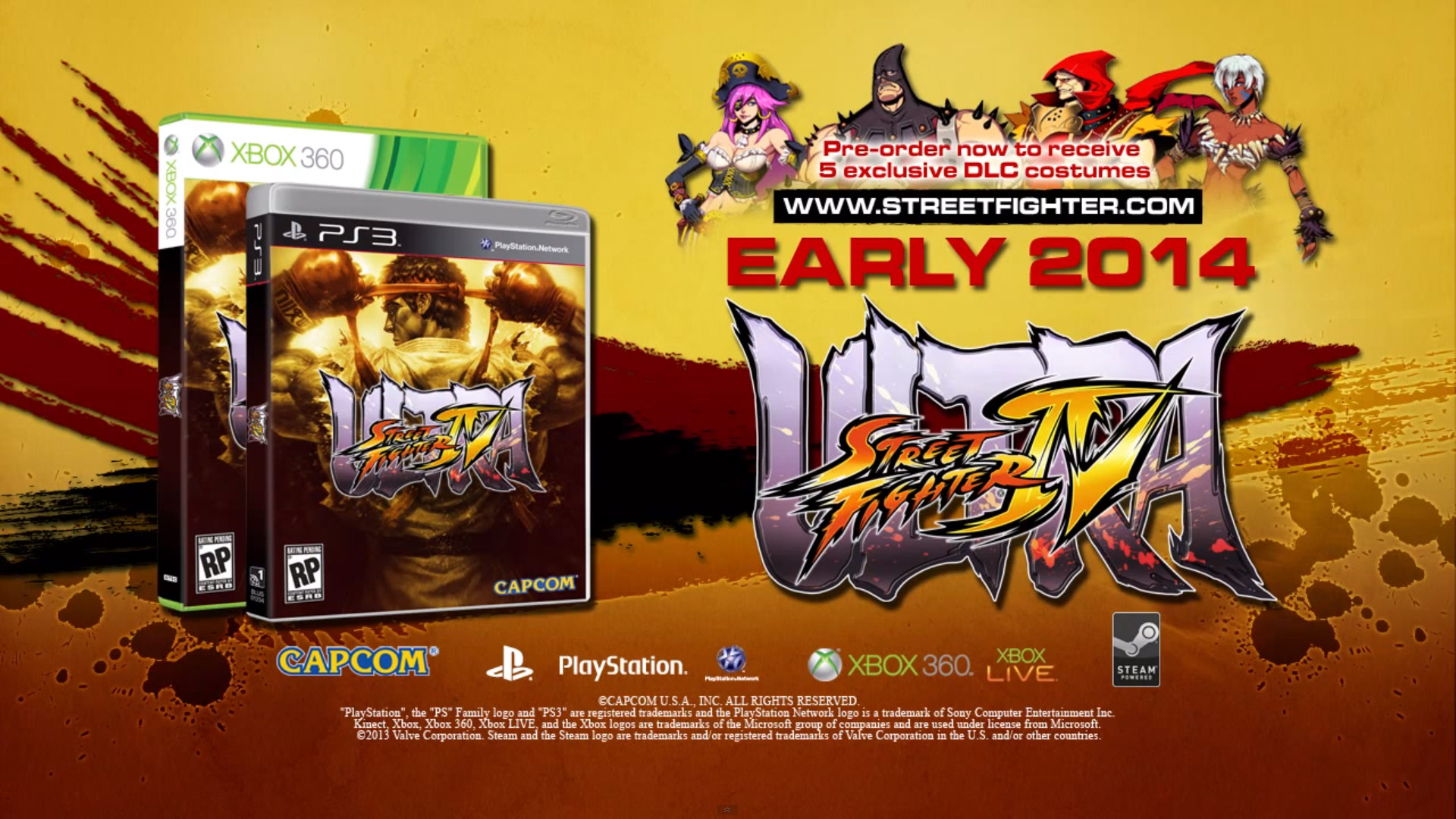 Ultra Street Fighter iv – system and character changes
As a longtime fan of Street Fighter I get excited about every new iteration… although not maybe the costume packs 🙂
So reasons to be stoked:
the game will be released on the XBOX360 and PS3
the 4 old, 1 new character, that is to be added to the line up
the changes to the existing fighters variables… red focus!
Thanks to shoryuken, here's the character change list.
Ultra Street Fighter 4 Change List
There's an upcoming location test in Taipei in which fans there will get to play the latest build of Ultra Street Fighter IV. While there, players will get to see the changes for their favorite characters. We then thought, "why not let those who aren't able to go to the location test see the change list? That way, they can follow how their character is progressing." So, without further ado, here is the latest character change list.
In addition to the changes for the 39 characters, I've also included an explanation of how the new battle mechanics work. This is a long post, so hold that scroll bar down if you're looking for a particular character.
System
Delay standing
Can only be performed against hard knockdown attacks
Can be performed by pressing any two buttons as the character hits the ground
The word "Technical" will be displayed if performed properly
Characters remain on the ground for 11 frames longer than normal
Red Focus
Performed by pressing light punch + middle punch + middle kick
Takes up two meters
Can absorb an infinite number of attacks
Damage absorbed builds the Ultra meter at 2x normal speed
Does 1.5x damage of a character's normal focus attack
Level 1 and 2 are the same as normal focus and armor effect fades when you release the buttons
Level 3 has armor effect until the attack is active
EX Red Focus
Performed by pressing light punch + middle punch + middle kick
Takes three meters to perform
Does 1.5x damage of a character's normal focus attack
Level 1 crumples the opponent instantly
Ultra Combo Double
Allows characters the ability to use both Ultra simultaneously
Characters either do 75% damage or 60% damage of their normal Ultra damage
Character classified under the 60% damage are: Zangief, Cammy, Fei Long, T.Hawk, Makoto, Hakan, Dhalsim, Rose, Akuma, E.Honda, and Hugo
Characters classified under the 75% damage are: All remaining characters
Abel
Close Standing Heavy Punch: First attack's hitbox extended downwards hitting crouching characters much more consistently
Far Standing Heavy Kick: Attack comes out faster (14F->13F)
Far Standing Heavy Kick: Attack is active longer (2F->3F)
EX Falling Sky: Attack is active longer (2F->3F)
EX Falling Sky: Extended Invincibility on Upper Body (6-7F to 6-8F)
Heartless: Attack is active longer (2F->4F)
Soulless: Ultra now connects when performed after crouching HP with opponent in the corner
Adon
Close Hard Kick: Hit box expanded at the tip to increase usefulness
Forward+MP: Frame advantage on hit reduced (4F->3F)
Light Kick Rising Jaguar: Opponents float a little higher after the second hit allowing to combo into another light kick Rising Jaguar more consistently near the corner
Light and Medium Jaguar Kick: Damage has been changed from 140-> 130
Light/Medium Jaguar Kick: Block damage changed to 33
Hard Kick Jaguar Kick: Damage has been changed from 130->120
Hard Jaguar Kick: Block damage changed to 30
Light/Medium/Hard/EX Airborne Jaguar Kick: Now does less block damage (20->10)
Jaguar Revolver: Distance traveled from second kick on reduced to reduce it going over opponents
Jaguar Revolver: Damage reduced slightly (510->480)
Light/Medium/Hard Rising Jaguar: Now less advantageous after focus cancel against a guarding opponent (-5 on block)
Akuma
Close standing medium kick: Attack comes out faster (5F->4F)
Close standing medium kick: when connected against a crouching opponent, they are forced to stand
Close standing medium kick: hitbox has been extended downward to hit crouching characters more consistently
Crouching hard kick: Can no longer cancel into the Ultra Raging Demon from this attack
Light/Medium/Heavy/EX Zanku Hadoken : Longer recovery added when used during a back jump (2F)
Demon Flip: Can now cancel into EX Zanku Hadoken from this attack
Medium Goshoryuken: Attack is only focus cancellable on the first hit on block and on the first or second hit on hit
Hard Goshoryuken: Attack is only focus cancellable on first hit on block and on the first second or third hit on hit
Hard Goshoryuken: Invincibility reduced (6F->5F)
Light/Medium/Hard Goshoryuken: Now less advantageous after focus cancel against a guarding opponent (-5 on block)
Balrog
Light Dash Punch: Able to move faster after connecting with this attack (-2F->-1F)
Light Dash Swing Blow: Damage has been reduced (80->70)
Light Dash Swing Blow: Stun has been reduced (100->70)
Light Dash Swing Blow: Less advantageous when this attack hits the opponent (10F->0F)
Light Dash Swing Blow: Less disadvantageous when the attack is blocked (-5F->-2F)
Light Dash Swing Blow: Charge time has been reduced (55F->45F)
Medium Dash Swing Blow: Charge time has been reduced (55F->50F)
Medium Dash Swing Blow: Less disadvantageous when the attack is blocked (-7F->-6F)
Medium Dash Swing Blow: Less advantageous when this attack hits the opponent (10F->2F)
Turn Punch: Charge time for levels 2~5 has been reduced to 2 seconds, 4 seconds for each level after that
Violent Buffalo: If the player holds punches for the last hit, Balrog performs a straight. If he holds kick, Balrog performs an uppercut
Dirty Bull: Command has been changed (63214×2+PPP->720+PPP)
Dirty Bull: Recovery has been reduced when it does not connect (58F->48F)
Dirty Bull: Reach has been extended (1.09->1.3)
Dirty Bull: Damage has been reduced (399->250)
Blanka
Forward dash: Moves forward faster (21F->20F)
Close middle kick: Considered airborne from the 3rd frame onward
Crouching middle kick: More advantageous after hit (4F->5F)
Crouching middle kick: Slightly increased pushback when opponent is hit or blocks this attack
Heavy Rolling Attack: Knocks down from any distance
Light/Medium/Heavy/EX Backstep Rolling: Block stun increased (increased by 2F)
Light/Medium/Heavy/EX Vertical Rolling: Can be focus cancelled on either hit or block
Cammy
Close standing hard punch: Damage reduced (85->80)
Close standing hard punch: Stun damage reduced (150->120)
Far standing hard punch: Damage reduced on the first frame (80->70)
Crouching light kick: Start up time increased (3F->4F)
Crouching heavy punch: Damage reduced (90->80)
Crouching heavy punch: Stun reduced (200->150)
Crouching heavy punch: Advantage after hit reduced (7F->6F)
Light/Medium/Heavy Cannon Strike: height at which the attack can be performed has been reduced
Light/Medium/Heavy Cannon Strike: recovery added (5F->7F)
EX Cannon Strike: Advantage on block reduced (5F reduction)
Hooligan Combination: Can cancel into Light/Medium/Heavy cannon strike
Spiral Drive Smasher: Last hit damage reduced on non animation version (210->170)
Light/Medium/Hard Cannon Spike: Now less advantageous after focus cancel forward dash against a guarding opponent (-5 on block)
Chun-Li
Vitality: Life increased (900->950)
Rear Spin Kick: Attack starts up faster and has received a hitbox improvement (12F->10F)
Yosokyaku (headstomps): Hitbox increased
Light/Medium/Heavy Spinning Bird Kick: Last hit causes a knockdown
EX Kikoken: Knocks down on hit
EX Spinning Bird Kick: Hitbox on the last attack improved to hit more characters
EX Spinning Bird Kick: Hitbox increased on first attack to hit crouching opponents
EX Hazanshu: Armor break effect added
Kikousho: Invincibility when the attack begins has been extended (8F->9F)
Kikousho: Damage increased (330->365)
Cody
Back Step: Distance traveled increased
Crouching middle kick: Advantage after hit increased (-3F->-1F)
Crouching middle kick: Disadvantage when guarded decreased (-6F->-2F)
Crack Kick: Considered airborne during attack (airborne from 8F)
Knife throw: Armor break effect added
Knife attacks: Increased hit capabilities
Zonk Knuckle: Can be focus cancelled
Bad Stone: Stone is immediately thrown when punch button is released
EX Criminal Uppercut: Hit Invincibility increased to frame before it becomes active
EX Criminal Uppercut: Opponent pushback after block reduced by half
Last Dread Dust: Damage reduced (506->466)
Last Dread Dust: Distance traveled moving forward increased
C.Viper
Close standing hard punch: Damage increased (90->100)
Far stand hard kick: Hurtbox around foot slightly decreased
Crouching middle kick: Hitbox at foot extended
EX/Red/Normal Focus attacks: Start up time has been reduced (3F reduction on all)
Light Thunder Knuckle: Hitbox extended at the end of her hand
Medium Thunder Knuckle: Hit advantage increased when focus cancelled (to 4F)
Heavy Thunder Knuckle: Feint recovery increased (6F->7F)
Emergency Combination: Damage increased (300->350)
Burstime: Smoke effect during Ultra decreased
Burning Dance: Attack starts up faster (10F->9F)
Burning Dance: Height restriction on attack reduced
Dan
Crouching Taunt: Meter gain when taunt is performed (0->40)
Crouching Taunt: No gauge increase when taunt hits (70->0)
Air Taunt: Meter gain when taunt is performed (0->10)
Close hard kick: Changed to a new command of 4 +Hard Kick
Far standing light punch: hitbox increased at the top of his hand
Light Dankyaku: Hitbox increased downward
Heavy Koryuken: Hitbox extended horizontally
Light/Medium/Heavy Gadoken: Hurtbox reduced to his wrist area
Haoh Gadoken: All hits connect against airborne opponents during combos
Haoh Gakoken: Damage reduced against airborne opponents (368->331)
Shissho Buraiken: Armor break effect added
DeeJay
Far standing middle punch: starts up faster (7F->6F)
Far standing hard punch: counter hit causes float more often
Crouching light kick: starts up faster (5F->4F)
Crouching middle punch: Hitbox has been increased
Crouching middle kick: Damage increase (70->80)
Crouching heavy punch: Hitbox has been increased
Knee shot: More advantageous on hit (3F hit stun added)
Air Slasher: Block damage increased (12->15)
Light Rolling Sobat: Disadvantage when opponent blocks attack decreased (-5F->-3F)
Medium Rolling Sobat: Longer hit stun on the first attack when focus cancelled (6F->7F)
EX Machine Gun Blow: Disadvantage when blocked increased (-5F->-8F)
EX Machine Gun Blow: During hit or block, can be focus cancelled
EX Machine Gun Blow: Launches opponent higher on hit
EX Machine Gun Blow: Starts up faster (12F->6F)
EX Machine Gun Blow: Throw invincible (1F~7F)
EX Machine Gun Blow: Hitbox increased on first two hits
Sobat Festival: Travels further throughout the attack
Dhalsim
Stand middle punch: Starts up faster (10F->9F)
Stand middle punch: More disadvantageous on hit and guard by 1 frame
Far standing middle kick: Now hits two times
Far standing middle kick: Damage distribution changed (60->40*30)
Far standing middle kick: Stun distribution changed (100->50*50)
Far standing hard punch: Damage increased (75->80)
Far standing hard punch: Hit advantage increased (0F->1F)
4+Light kick: damage increased (30->40)
4+Middle kick: Hit and Guard pushback decreased
4+Heavy kick: Damage increased (90->100)
Light Yoga Blast: Hurtbox reduced
Middle Yoga Blast: Starts up faster (15F->14F)
EX Yoga Blast: Damage increase (90*50->90*60)
EX Yoga Blast: Hits from further away
EX Yoga Blast: Quick standable
EX Yoga Flame: Damage increase (50*70->70*70)
EX Yoga Flame: Hits from further away
Yoga Shangri-La: Hits from further away
Yoga Shangri-La: Command has been changed (236×2+PPP->236×2+KKK)
Yoga Catastrophe: Not possible to perform if a Yoga fire is on screen
Dudley
Standing hard punch: Hitbox extended downward
Standing hard kick: counter hit pushes the opponent back less
Crouching light punch: hits from further out
Crouching light punch: the ability to chain crouching light punch into standing 6+light punch has been removed
Crouching middle kick: starts up faster (8F->7F)
6+Middle kick: hits from further out
6+Heavy punch: opponents are knocked down when hit out the air
Target Combos: damage increased for all combos (by 10)
Target Combo 1: block damage from second hit has been removed
Rose: Causes damage (0->1)
Rose: Advantage on hit increased (6F->13F)
Light machine gun blow: Disadvantage when block reduced (-2F->-1F)
Heavy machine gun blow: Pushback on hit reduced
Light/Medium/Heavy Shortswing Blow: Throw invincible throughout attack
EX Shortswing Blow: Throw invincible until first hit
E.Honda
Close standing hard punch: Hitbox increased vertically
Far standing hard punch: Damage increased from max range (80->90)
Far standing hard kick: Disadvantage when opponent guards reduced (7F->6F)
Far standing hard kick: Hitbox increased in front
Forward/Backward jump middle punch: Hurtbox reduced
Forward/Backward jump middle kick: Attack is active longer (increased by 1F)
EX Sumo Headbutt: Pushback on block reduced
EX Hundred Hands: Advantage after hit increased (4F->5F)
EX Command Grab: Throw invincible on start (1F~5F)
Ultimate Killer Head Ram: Start up increased (8F->10F)
Orochi Breaker: Starts up faster after the flash (2F->1F)
Orochi Breaker: Grabs from further (1.16->1.4)
Orochi Breaker: Command change (63241×2+PPP->720+PPP)
El Fuerte
Standing light punch: hitbox extended downwards
Close / Far standing light kick: Starts up faster (5F->3F)
Close / Far standing light kick: No longer able to special cancel
Close standing middle kick: Starts up faster (14F->11F)
Close standing middle kick: Recovers faster (14F->13F)
Far standing middle kick: Recovers faster (15F->14F)
Close standing hard kick: Starts up faster (12F->10F)
EX Guacamole Leg Grab: Recovers faster (10F->6F)
Levels 1/2/3 and EX Quesadilla Bomb: Start up faster (17F->14F)
Levels 1/2/3 and EX Quesadilla Bomb: Recovers faster (18F->14F)
EX Quesadilla Bomb: Throw invincible when it starts up (1F~7F)
Fajita Buster: Damage increased (150->180)
Tostada Press: Attack is active for longer (7F->8F)
Gordita Sobat: Recovers faster (18F->17F)
Evil Ryu
Vitality: Life increased (900->950)
Crouching middle kick: Stun on guard increased (1F)
Crouching hard kick: Starts up faster (7F->6F)
Target Combo: Can be performed off of far standing middle punch
6+Middle Kick: Hitbox extended to hit crouching opponents
Heavy Axe Kick: Starts up faster (26F->25F)
Light/Medium/Heavy Shoryuken: More disadvantageous when dashing forward after a focus cancel (-5F)
Fei Long
Crouching light kick: Starts up slower (3F->4F)
Crouching light kick: Ability to rapid fire the attack has been removed
Crouching middle punch: Damage increase (55->65)
Light Rekka: Distance traveled on first punch reduced
Light/Medium/Heavy Rekka: Hit advantage on second hit reduced (reduced by 2F)
Shienkyaku: Removed accidental input command (464+K)
Light/Medium/Heavy Tenshin: Does one point of damage
EX Tenshin: Starts up faster (12F->10F)
Rekkashin Geki: 3rd hit of the non animation version knocks the opponent higher so the final hit connects in combos against airborne opponents
Light/Medium/Heavy Shienkyaku: More disadvantageous when dashing forward after a focus attack cancel (-5F)
Gen
Fixed issue where Gen has 1 frame more invincibility on neutral wake up
Stun Vitality: Increased from 900->950
Normal/Red/EX/EX Red Focus attack: Hitbox has been reduced into his wrist area
[Mantis]

Stand heavy punch: Stun damage distribution changed (100*100->150*50)
Light/Medium/Heavy Hundred Hands: Hitbox has been extended to hit further out
Light/Medium/Heavy Hundred Hands: Frame advantage on hit reduced (reduced by 1F)
Light/Medium/EX Hundred Hands: Pushback on hit and guard reduced
Heavy Gekiro: Causes soft knockdown
Heavy Gekiro: Timing is now switched with the EX version from AE 2012
EX Gekiro: Causes hard knockdown
EX Gekiro: Timing is now switched with the Heavy version from AE 2012
****nketsu: 600 stun when this attack connects with a full Ultra bar
****nketsu: Hitbox extended outward to hit from further

[Crane]

Crouching light punch: Advantage on hit increased (3F->5F)
Crouching heavy punch: If the opponent is hit with a counter hit, they float higher
Crouching heavy kick: Recovery reduced (29F->24F)
Forward/back jump hard punch: Hurtbox increased to make it easier for the opponent to anti-air
Forward/back jump hard kick: Hurtbox increased to make it easier for the opponent to anti-air
Light/Medium Jyasen: Guard disadvantage after block decreased (-3F->0F)
Light/Medium/Heavy/EX Jyasen: Damage on last hit increased (increased by 10)
Oga: Hitbox on his foot has been reduced
Gouken
Far standing light kick: now is Special, Super, Focus, cancellable
Crouching light punch: Starts up faster (4F->3F)
Crouching medium punch: Advantage on hit increased (1F->3F)
Kongoshin: Removed accidental input command (646+P)
Hyakki Gosai: Stun decreased (200->160)
Light Senkugoshoha: Travels forward further
EX Tatsumaki Gorasen: Starts up faster (7F->5F)
EX Tatsumaki Gorasen: Invincibility reduced (1F~8F->1F~6F)
EX Tatsumaki Gorasen: Hitbox increased to hit opponents crouching and further out
Guile
General: Hurtbox sizes have been readjusted when Guile is getting up from the ground
Airthrow: Range has been increased
Crouching light punch: Advantage on hit increased (4F->5F)
Crouching middle kick: Both hitbox and hurtboxes have been extended
Reverse Spin Kick: Hitbox extended downward to hit crouching opponents more consistently
Light/Middle/Heavy/EX Flash Kick: Invincibility increased (1F for all versions)
Sonic Hurricane: Damage increased (300->330)
Somersault Explosion: Starts up faster (7F->5F)
Somersault Explosion: Damage decreased (510->450)
Somersault Explosion: Tracks which side the opponent is on upon start up
Somersault Explosion: The second somersault's start up has been reduced to connect against airborne opponents more consistently
Somersault Explosion: Invincibility has been reduced (1F~10F->1F~6F)
Guy
Movement: Guy walks faster
Far standing light kick: Hitbox increased around foot to increase anti-air capabilities
Far stand hard kick: Attack is active for longer (3F->5F)
Far stand hard kick: Hitbox increased around foot to increase anti-air capabilities
Crouching middle punch: Hitbox adjusted to reduce anti-air capabilities
Elbow Drop: Hitbox extended downward to hit crouching opponents more consistently
Ninja Sickle: Starts up faster (11F->9F)
Target Combo: HItbox has been increased on the 2nd attack to hit opponents more consistently
Heavy Hozanto: Starts up faster (30F->28F)
Sudden Stop: Recovers faster (17F->16F)
Neck Flip: Hitbox increased to hit smaller characters more consistently
EX Neck Flip: Causes knock down when opponent is hit out of the air
EX Bushin Senpukyaku: Hitbox has been increased to hit smaller characters more consistently
Bushin Goraisenpujin: Travels further on the second hit
Hakan
Standing hard punch: Hitbox increased above his head to increase anti-air capabilities
Crouching light kick: Recovers faster (9F->8F)
Crouching middle punch: Can special cancel, super cancel, ex cancel, focus cancel out of this attack
Jumping middle kick: Hitbox increased to cross up much more consistently
6+Middle Punch: Disadvantage after block reduced (-5F->-4F)
6+Middle Punch: Disadvantage after hit reduced (-2->0)
Airthrow: Damage increased (140->150)
Light/Medium/Hard Oil Rocket (unoiled): Throw distance increased (0.97->1.05)
EX Oil Rocket (unoiled): Throw distance increased (0.97->1.2)
Ibuki
Guard: El Fuerte bug that resulted her in not being able to block his 6+MK has been fixed
Crouching light punch: Start up increased (4F->3F)
Target Combo 4: Hitbox extended downward on second hit to hit crouching opponents more consistently
Hammer Kick: Hitbox extended downward to hit crouching opponents more consistently
Hammer Kick: Advantage on block reduced (3F->2F)
Backhand Punch: Second hit can be focus canceled with specials, high jump, focus attacks, red focus attacks
Tsujigoe: Recovery removed
Light, Medium, Heavy, EX Tsumuji: Hitbox extended downward to hit crouching opponents better
Medium Tsumuji: Recovery increased (3F->4F)
EX Kazegiri: Invincibility increased (6F->7F)
EX Kazegiri: Hitbox increased to hit airborne character more consistently (on frames 2~3)
Juri
Close standing light punch: Hitbox increased to hit crouching opponents more consistently
Close standing medium punch: Feng Shui version has been adjusted to match non Feng Shui version
Close standing middle kick: Feng Shui version has been adjusted to match non Feng Shui version
Far standing middle punch: Can cancel into special moves
Far standing light kick: Start up reduced (5F->4F)
Far Hard Kick: Feng Shui version has been adjusted to match non Feng Shui version
Crouching middle kick: Starts up faster (6F->5F)
Crouching middle kick: Reduced recovery (17F->16F)
Kasatsuchi (counter): Takes white damage when opponent's attack is countered
Light, Medium, Heavy Shikusen: Cannot be performed when jumping backwards
Shikusen: 2nd and 3rd attack hitboxes have been adjusted to hit more consistently
EX Shikusen: Follow up attacks only come out if K button are pressed
EX Shikusen: Attack trajectory effected by which two buttons are pressed to perform the attack (LK+MK = close, MK+HK = Middle, LK+HK = far)
EX Fuhaijin: MK+HK version can now hit crouching opponents
EX Fuhaijin: LK+HK version damage has been increased (50*50->60*60)
EX Senpusha: Invincibility increased (1F~6F->1F~7F)
EX Senpusha: Disadvantage after guard increased (-14F->-15F)
Feng Shui Engine: Invincibility on start up reduced (4F->2F)
Kaisen Dankairaku: Hitbox has been extended horizontally and vertically to increase ability to hit the opponent from further out
Ken
Movement: Walkspeed has been increased
Close standing medium kick: Hitbox has been adjusted downward to hit crouching opponents more consistently
Crouching heavy kick: Starts up faster (8F->7F)
Thunder Kick: Disadvantage after hit reduced (-1F->0)
Light, Medium, Heavy Hadouken: Damage increased (60->70)
EX Hadouken: Damage increased (50*40->50*50)
Medium Shoryuken: The first hit now launches the opponent
Heavy Shoryuken: Can only focus cancel the attack on the first hit when blocked and first or second hit when it hits
EX Air Tatsumaki: Trajectory changed when used on the way up
Shinryuken: Damage increased (330->390) for the non animation version
Guren Senpukyaku: Forward movement during the first frames of the attack increased
Light/Medium/Heavy Shoryuken: Disadvantage on guard after a focus dash cancel forward increased (-5F on block)
Makoto
Forward throw: Throw range increased (0.9->0.95)
Back throw: Throw range decreased (0.9->0.85)
Standing hard punch: Hit stun increased on crouching opponents to match hit stun on standing opponents
Crouching heavy kick: Stun damage increased (100->200)
Jumping middle kick: Hitbox increased to increase cross up ability
Light/Medium/Heavy Karakusa: increased recovery when it misses (4 frames added)
EX Fukiage: Can now hit standing opponents
EX Fukiage: Now jump cancellable
EX Fukiage: Damage decreased (120->80)
EX Fukiage: Stun damage decreased (200->100)
Light Tsurugi: Disadvantage after block increased (increased by 1F)
Medium Tsurugi: Disadvantage after block increased (increased by 1F)
Seichusen Godzansuki: Damage decreased (480->440)
Abare Tosanami: Projectile invincibility added
M.Bison
Stand middle punch: Starts up faster (8F->6F)
Stand middle punch: Now special, super, ex focus attack cancellable
Crouching heavy punch: Starts up faster (12F->10F)
Hell Attack: Follow up attacks now combo once this connects
Bison Teleport: Recovery increased (42F->47F)
Light Knee Press: Disadvantage on block increased (0F->-1F)
Light Knee Press: Damage increased (60*30->60*40)
Medium Knee Press: Damage increased (60*50->60*60)
Heavy Knee Press: Damage increased (70*60->70*70)
EX Knee Press: Damage increased (70*70->70*80)
EX Knee Press: Projectile invincibility extended (1F~12F->1F~19F)
Head Press: Starts up faster (22F->20F)
EX Devil's Reverse: Comes down from the sky faster
Light/Medium/Heavy Psycho Crusher: Will hit opponents who are in a float state
EX Psycho Crusher: Damage reduced (75*75->75*60)
Psycho Punisher: Damage reduced (450->420)
Psycho Punisher: Charge time reduced (55F->40F)
Oni
Crouching heavy kick: Starts up faster (9F->8F)
Crouching heavy kick: recovers faster (24F->23F)
6+MK: Attack comes out faster. (Startup changed 13F->11F)
Focus attack: Hitbox extended to the tip of his fingers
Light Gouhadou: recovers faster (54F->52F)
Medium Gouhadou: recovers faster (61F->59F)
Heavy Gouhadou: recovers faster (69F->67F)
Light Sekisei: Disadvantage after block reduced (-7F->-6F)
Medium Sekisei: Disadvantage after block reduced (-6F->-4F)
Medium Sekisei: Removed invincibility frame
Light/Medium/Heavy/EX Goushoryu: Focus attack cancel possible on first or second hit when opponent is hit
Light/Medium/Heavy/EX Goushoryu: Focus attack cancel possible on first hit when opponent blocks
Heavy Goushoryu: Full and hit invincibility reduced (1F~8F->1~5F and 9~10F->6~7F)
Light Rankan: Damage reduced (120->110)
Light Rankan: Stun reduced (150->130)
EX Rankan: Disadvantage after block reduced (-10F->-9F)
Heavy and EX Rankan: Hurtbox before the attack becomes active has been shrunk
Meido Gohadou: Damage increased on non animation version (350->375)
Meido Gohadou (ground): Starts up faster (11F->9F)
Meido Gohadou (air): Starts up faster (14F->11F)
Tenchi Sokaigen: command change (41236×2+PPP->63214×2+PPP)
Light/Medium/Heavy Goshoryu: Disadvantage on guard after a focus dash cancel forward increased (-5F on block)
Rose
Movement: Forward dash recovery reduced (21F->20F)
Close middle kick: Hitbox extended downward to hit crouching opponents more consistently
Crouching light punch: Damage increased (20->30)
Crouching light kick: Damage increased (30->40)
Crouching middle punch: Damage increased (60->70)
Light Soul Spiral: Forward movement increased
Light/Medium/Heavy Soul Spiral: Damage increased (100->110)
EX Soul Spiral: Damage increased (120->130)
EX Soul Spiral: Stun damage increased (100->200)
EX Soul Spiral: Hit invincibility increased (11F->13F)
EX Soul Spiral: Can now be thrown
Medium Soul Spark: Recovers faster (22F->20F)
Heavy Soul Spark: Recovers faster (29F->27F)
Illusion Spark: Starts up faster (12F->10F)
Soul Satellite: Command change (214×2+PPP->214×2+KKK)
Soul Satellite: Recovery increased (2F->4F)
Rufus
Forward Throw: Damage reduced (150->135)
Far standing middle punch: Now special, super, ex focus/red focus cancellable
Far standing middle kick: active longer (1F->2F)
Target Combo: Disadvantage on block increased (-5F->-8F)
EX Messiah Kick: Second hit adjusted to hit crouching opponents more consistently
EX Messiah Kick: Invincibility reduced (16F->13F)
Light Messiah Kick: Can hit opponents in float state
Messiah Kick Medium follow up: Recovery increased (19F->22F)
Messiah Kick Heavy follow up: Recovery increased (17F->19F)
Spectacle Romance: Hitbox on the 2nd attack expanded
Space Opera Symphony: Damage reduced (460->420)
Big Bang Typhoon: Damage reduced (420->360)
Big Bang Typhoon: Ultra locks on to airborne opponents resulting in full hits
Ryu
Crouching medium kick: Decreased disadvantage on block (-3F->-2F)
Jump forward/back middle punch: Can be cancelled into an air Tatsumaki
Air Tatsumaki: Will always combo after jumping medium punch
EX Air Tatsumaki: Hitbox and vacuum effect adjusted to increase consistency
Light/Medium Shoryuken: Disadvantage after focus cancel forward dash on block increased (-5F on block)
Shin Shoryuken: Invincibility increased (8F->9F)
Shin Shoryuken: Plays full animation if connected after an EX Shoryuken FADC cancel
Sagat
Close standing light kick: 2nd hit is special, ex focus/red focus, super cancellable
Tiger Knee: First hit causes crouching opponents to stand when it hits
EX Tiger Knee: Disadvantage on guard reduced (-1F->0F)
Tiger Destruction: No longer switches sides when performed in the corner
Tiger Destruction: Distance traveled decreased
Tiger Destruction: Damage decreased against airborne opponents (395->340)
Tiger Cannon: Hits opponents more times when used in a combo against airborne opponents
Tiger Cannon: Damage reduced against airborne opponents (384->309)
Light/Medium/Heavy Tiger Uppercut: Disadvantage on block after focus cancel dash forward increased (-5 on block). Angry scar version also affected
Sakura:
Far standing middle punch: Hitbox extended at the tip of her fist
Forward/backward jumping hard punch: Hurtbox extended under her hands so that opponents can anti-air her more consistently
Light/Medium/Heavy/EX Shunpukyaku: Trajectory of the attack changed when used on the way up
EX Shunpukyaku: Advantage after guard decreased (+4->+2)
EX Shunpukyaku: Hitbox has been increased to hit crouching opponents more consistently
Shououken (all versions): Hitbox extended to hit from further away
EX Sakura Otoshi: Starts up faster (14F->11F)
Shinkuu Hadoken: Hitbox behind her has been reduced
Seth
Wall Jump: Distance travelled reduced slightly
Far standing hard punch: Disadvantage on hit reduced (11F->-5F)
Far standing hard punch: Disadvantage on guard reduced (-15F->8F)
Forward/backward jumping middle kick: crosses opponents up
Forward/backward heavy kick: no longer cross opponents up
Yosokyaku: Attack is active longer 3F->4F
Dive Kick: Hurt box increased slightly
Medium Hundred Kicks: Stun reduced (150->100)
Heavy Hundred Kicks: Stun reduced (200->150)
Light/Medium/Heavy/EX Piledriver: Stun reduced (200->150)
Light Shoryuken: Cannot focus cancel after the first hit if the opponent blocks the attack
Medium/Heavy Shoryuken: Invincibility reduced (7F->5F)
Medium/Heavy Shoryuken: Cannot focus cancel after the first hit if the opponent blocks the attack
Light/Medium/Heavy Shoryuken: : Disadvantage on guard after a focus dash cancel forward increased (-5F on block)
Light/ Medium/ Heavy Tandem Engine: Can no longer be cancelled into from regular attacks
Tandem Stream: Recovers faster (66F->55F)
Tandem Typhoon: Can connect more hits against airborne opponents in a combo
Tandem Typhoon: Disadvantage after blocking reduced (89->70F)
T.Hawk
Movement: T.Hawk walks faster
Close standing middle punch: Pushback on hit and guard reduced
Far standing hard kick: Hurtbox on his leg has been increased
Far standing hard kick: Disadvantage on guard reduced (-7F->-5F)
Crouching middle kick: Special, super, ex focus/ex red focus cancellable
Thrust Peak: Command changed (3+LP->4+LP)
Condor Spire: Command changed (421+P->623+K)
Light Condor Spire: Disadvantage on hit reduced (-5F->-2F)
Light Condor Spire: Starts up faster (20F->11F)
Medium Condor Spire: Starts up faster (20F->14F)
EX Condor Spire: Travels further distance
Light Tomahawk Buster: Starts up faster (5F->4F)
EX Tomahawk Buster: Can be focus cancelled
Light Mexican Typhoon: Throw range increased (1.5->1.55)
Raging Slash: Command change (63214×2+PPP->63214×2+KKK)
Raging Slash: Hitbox above his head has been increased
Vega
Mask pick up: Mask must be picked up with 2+PP
Crouching heavy punch: Attack is active longer (2F->4F)
EX Rolling Crystal Flash: Advantage on hit reduced (4F->2F)
Bloody High Claw: Hitbox extended on the top of the attack
Splendid Claw: Starts up faster (8F->7F)
Super Barcelona Drop: Hits on the way up
Super Barcelona Drop: Damage has been reduced (100*100*200->100*100*100)
Super Barcelona Drop: Gauge is lost when the super is inputted
Yang
Movement: Yang walks faster
Close/Far standing light kick: Starts up faster (5F->4F)
Close stand middle kick: Hitbox increased to hit crouching opponents more consistently
Far stand middle punch: Can be special, super, focus cancelled
Crouching light kick: damage increased (20->30)
Forward/back jumping middle kick: crosses up more consistently
Light/Medium Mantis Slash: Damage increased on third hit (60->65)
Heavy Mantis Slash: Damage increased on third hit (60->70)
Light Kick Senkyutai: Hitstop increased on first hit only (8F->12F)
Light /Medium/Heavy/EX Command grab: Does one point of damage
Tenshin Senkyutai: Starts up faster (7F->6F)
Yun
Crouching middle punch: damage increased (50->60)
Standing middle punch: damage increased (50->60)
Light/Medium/Heavy/EX Command grab: Does one point of damage
Command grab: Throw distance decreased (1.1->1.0)
EX Command grab: Throw distance decreased (1.3->1.2)
Heavy Nishikyaku: Invincibility removed
Zangief
Close standing light kick: Special, focus/red focus cancellable
Far standing middle punch: Can be hit before attack comes out
Far standing middle punch: Hurtbox extended
Far standing middle kick: Disadvantage after hit reduced (-7F->-3F)
Far standing middle kick: Disadvantage after block reduced (-10F->-7F)
Forward/back jumping heavy punch: Hurtbox increased to allow opponents ability to anti air Zangief
Light Screw Pile Driver: Throw distance decreased (1.75->1.7)
Light Banishing Flat: Disadvantage on hit reduced (-5F->-2F)
Medium/Heavy Banishing Flat: Disadvantage on block reduced (reduced by 2F)
Light/Medium/Heavy Banishing Flat: Starts up faster (each version by 2F)
EX Banishing Flat: Starts up slower (13F->16F)