Serious geek out
26/05/2013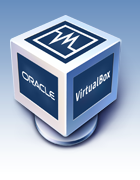 I've not been using the processing power of my 8 core PC, so decided to see what it could do this afternoon.
I've installed VirtualBox direct from Synaptic Manager, and have created Virtual boxes for Debian and Windows 7.
Both are currently installing, and I have not seen so much activity across all cores before.
Having Windows as a VM will save me heaps of time and frustration, as I will no longer have to log out of Ubuntu, and close files to work in Windows… I wonder if I will be able to log on to works network from the Windows VM?
Update: I can log onto my work network, installing java for windows now. I'm amazed by the speed!
I have also installed MS Office, can't believe I didn't think of this sooner.
So I boot into Ubuntu, can open VM's for Windows to my work network, and a tor connection through Debian to the internet.
Next mission is to add a VM file server 🙂